Cool Frog Pty Ltd.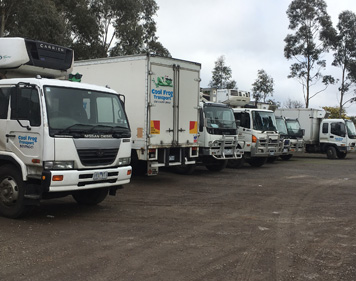 We are a husband-&-wife operated business providing refrigerated transport throughout Victoria. Our company began in December, 2013.
Cool Frog refrigerated transport is based in Bendigo, Victoria, but our services extend to the Melbourne and metropolitan area as well as throughout regional Victoria. We also have some services to Sydney on a monthly schedule.
We transport anything which needs to be kept refrigerated.
Perishable goods such as salads, fruit and vegetables cakes, pies, pastries, eggs, meat and meat products are all safely and hygienically transported in our light commercial vehicles and our rigid trucks. We also transport healthy, prepared meal services as well as supplies for small grocery stores, restaurants and supermarkets.
Temperature-sensitive products such as veterinary medicines and vaccines are also part of our transport-with-care service.
Herbs, gourmet food items, emu oil and other delicate products can also be transported safely in our vehicles.

Cool trucks
All our vehicles, ranging from our light, freight vehicles through to our heavy, rigid trucks, are fully insulated and temperature controlled. You can see our trucks on the roads throughout Melbourne and all over Victoria, sometimes even up to Sydney. They're the ones with the big, green frog on the side. He's a pretty chilled-out dude but he's keeping your products cool!

Cool frog
So … hop to it.
Call Peter at Cool Frog Refrigerated Transport on
0427 500 651.

Cool products
Your products will arrive at their destination in good order and cool. All our vehicles are thermostatically controlled which means that you can relax, knowing that your perishable goods or temperature-sensitive products will arrive at their destination safely and at the correct temperature.

Cool staff
Our drivers and our logistics manager are professional, efficient and very friendly. We enjoy what we do and we aim to make your day a happy one too!