Cool Frog Pty Ltd.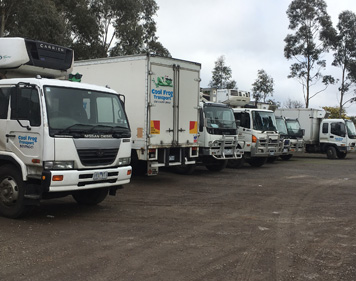 Cool Frog Transport is a family owned and operated, refrigerated transport business, based in Bendigo with daily services covering greater Melbourne Metro, central Victoria and a twice weekly service to Sydney. Cool Frog was formed in 2013 by Peter & Genevieve. Jason and Kate (daughter & son in-law of Pete & Gen) took over the business in 2018 and have maintained the company's dedication to provide a high-quality reliable service to all of our clients.
Our focus is to provide cold logistics services for perishable goods (chilled & frozen) and any other temperature sensitive products. Our services typically cover products such as salads, fruit & vegetables, cakes, pies, eggs, meat and meat products. All goods are safely and hygienically transported in our modern fleet of vehicles including light commercial, 8-14 pallet rigids and a 24 pallet semi-trailer.

Cool trucks
All our vehicles are fully insulated and temperature controlled. You can see our trucks on the road throughout Melbourne, Victoria and even up in Sydney. They're the ones with the big green frog on the side. He's a pretty chilled-out dude but he's keeping your products cool!

Cool frog
So … hop to it.
Call Jason at Cool Frog Transport on
0427 500 651.

Cool products
Your products will arrive at their destination in good order and cool. All our vehicles are thermostatically controlled which means that you can relax, knowing that your perishable goods or temperature-sensitive products will arrive at their destination safely and at the correct temperature.

Cool staff
Our drivers and our logistics manager are professional, efficient and very friendly. We enjoy what we do and we aim to make your day a happy one too!